Jeep Safari in the Country of Nomads, Naadam (22 days)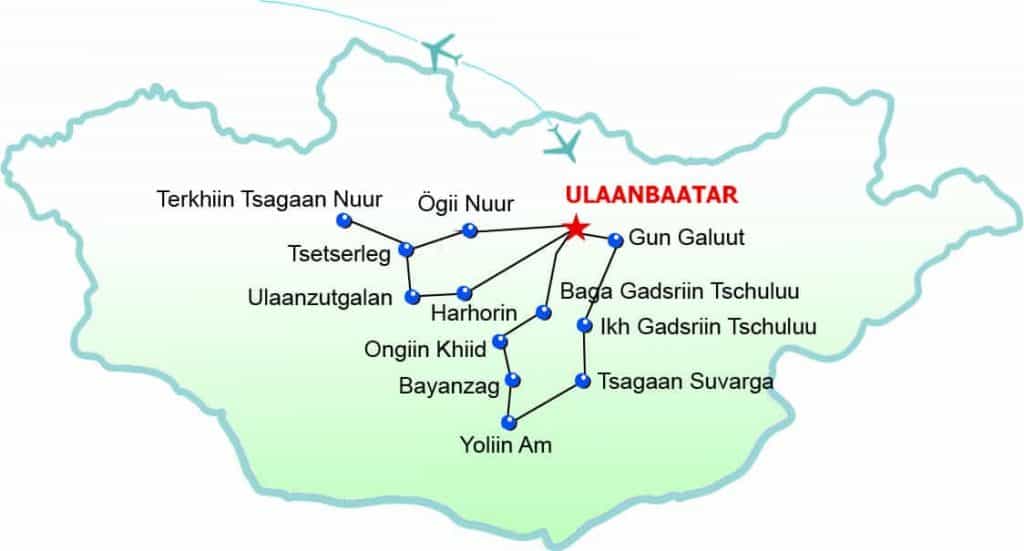 Travel through steppe, pass over Altai Mountain Range, hiking around the pictorial lakes into impressive steppe and hill landscape.
Day 1: Departure
Departure from Europe to Ulaanbaatar/Chinggis Khan Airport
Day 2: Arrival in Ulaanbaatar, city tour
Arrival in Ulaanbaatar, 2 hours drive by jeep westward to your ger camp in Khustai Nuruu National Park. In the late evening, we visit the Przewalski Wild Horse, in Mongolian called "Takhi". First stay overnight in a ger camp.
Day 3: Kharkhorin, monastery Erdene Zuu
Drive to ancient city Kharkhorin and visit the Erdene Zuu Monastery (World Cultural Heritage), a magnificent monastery built on the ruins of the capital of Chinggis Khan. Stay overnight in Mongolian ger at the camp on the shores of Orkhon River.
Day 4: Waterfall Ulaanzutgalan
Today we drive to the largest waterfall Ulaanzutgalan. On the way we visit the temple Shankh. stay overnight in extra ger from nomads built for tourists.
Day 5: Temple on Tuvkhun Mountain
Short drive to the temple on the peak of the Tuvkhun Mountain. We continue our trip to hot springs of Tsenkher. Stay overnight in ger camp.
Day 6: Tsetserleg, Monastery-Museum Zaya Pandita
Drive to the centre of Arkhangai province Tsetserleg and visit the large and old Buddhist Monastery-Museum Zaya Pandita and the local market. Lunch at cafe Fairfield, then drive to sacred stone of Taikhar Chuluu on the shores of the river Tamir.
Day 7: Khorgo Volcano, "Great White Lake"
After breakfast we continue our journey to north-west. In the afternoon, we arrive at Khorgo Volcano, climb to the top and go to the Terkhiin Tsagaan Nuur "Great White Lake". Stay overnight at ger camp.
Day 8: Free day
Free day to hike alongside the lake and admire the beautiful scenery of the area.
Day 9: Freshwater lake Ugii
In the morning, we drive back to the east, have lunch in Tsetserleg. In the late afternoon, we arrive at the freshwater lake Ugii, stay overnight at ger camp.
Day 10: Ulaanbaatar
Drive back to Ulaanbaatar, transfer to hotel.
Day 11: Naadam Festival
In the morning, we participate in the opening ceremony of the Naadam Festival. You will watch national wrestling, horse racing and archery.
Day 12: Free day
Free day left in your authority, can be used for city tour or Naadam celebration.
Day 13: Nature Reserve Gun Galuut
Drive to the east to the 40m high Chinggis Khan Complex and to Nature Reserve Gun Galuut. In the afternoon, free time for bird watching, stay overnight at ger camp.
Day 14: Provincial town Choir
Drive into the south direction to the city Choir, a small town on Trans/Mongolian Railway to China, check-in hotel of town.
Day 15: Rock formations of Ikh Gazriin Chuluu
Today we continue our trip south to the province of Middle Gobi Mandalgobi. On the way we pass by the interesting rock formations Ikh Gazriin Chuluu.
Day 16: Tsagaan Suvarga
We drive to Tsagaan Suvarga, rock formations that look like red and white stupas, stay overnight at ger camp.
Day 17: National Park "Three Beauties of Gobi", "Flaming Cliffs" of Bayanzag
Canyon of Yoliin Am (Vulture Valley) with ice even in summer, stay overnight at ger camp at the range of national park "Three Beauties of Gobi". After hiking and visiting the Gobi-Museum, drive to the "Flaming Cliffs" of Bayanzag, a worlds famous dinosaur remains site. Visit a camel breeding family and ride Bactrian camels.
Day 18: Monastery ruins on Ongi River
In the morning, we drive to Ongi River with monastery ruins. Stay overnight at ger camp.
Day 19: Baga Gazriin Chuluu Mountain
We continue our drive to Baga Gazriin Chuluu Mountain, an interesting rock formation in the middle of the Gobi desert, walk into mountains. Stay overnight at ger camp.
Day 20: Bogd Khan National Park
Go to Bogd Khan National Park, where we will see Mandzsuhir Monastery. In the afternoon, hike in the mountain.
Day 21: Ulaanbaatar
Return to Ulaanbaatar and have leisure time for shopping. Afterwards, dinner accompanied by traditional folklore concert.
Day 22: Departure
Transfer to the airport and departure.