Want to Travel to Mongolia?
Explore Mongolia is your experienced tour operator for travels to the Mongolian steppe!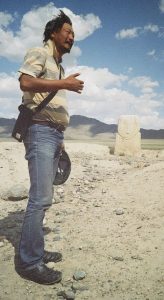 No matter if you want to travel by bike or hike or go horse-riding, no matter if you are interested in birds, shamans or archaeology: Here you'll find plenty of opportunities for interesting places to see while travelling Mongolia. And if you don't find something particular, please don't hesitate to contact us: We will be more than happy to organize an individual travel program according to your personal taste!
I look forward to your message!
Your Olzod Boum-Yalagch
Founder and CEO, Explore Mongolia Co., Ltd.
P.S.: My personal recommendation: Explore Mongolia helps to protect the nature and the wonders of our countryside. The Gobi Bear (Mazaalai) and the Przewalski horses (Takhi) are waiting for you!